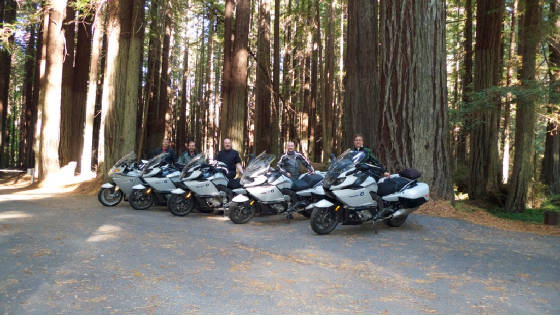 5 brand new BMW K1600GT's worth $125,000.00 - universally acclaimed by ALL of the motorcycle press as groundbreaking - and currently the number one hottest selling bike on the planet. 3 have KonTour seats, 1 has a stock seat, and 1 has another brand of aftermarket seat (which is the first one most motorcyclists think of when buying a new seat.) Why are only 3 of these 5 guys smiling?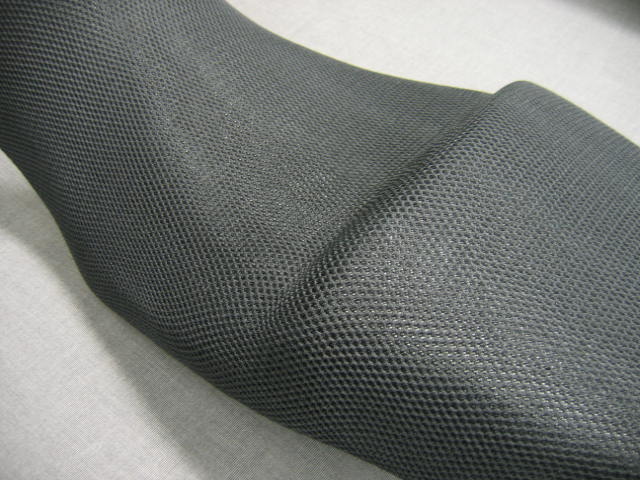 KonTour standard specification build Polar Mesh seat for a Moto Guzzi Norge 1200.
This customer requested his seat to be raised an inch for both the driver and pillion, as well as having both sections individually built to KonTour Specification for each person's weight and inseam. Custom modifications are NOT a problem for Kontour Seat!
Here's what this customer had to say a month later after we completed a rush order for him:  "The seat you redid for me was to say the least "fantastic"!! Many miles each day after day through Alaska and Canada and not one complaint from Mr. Buns. It rained-was muddy-dusty-ruts-pot holes the size of wash tubs, and through it all I never once got the "seat shuffles". Your product is great and I give you an 11 out of 10 . Thank you for the rush - it was worth the extra cost. "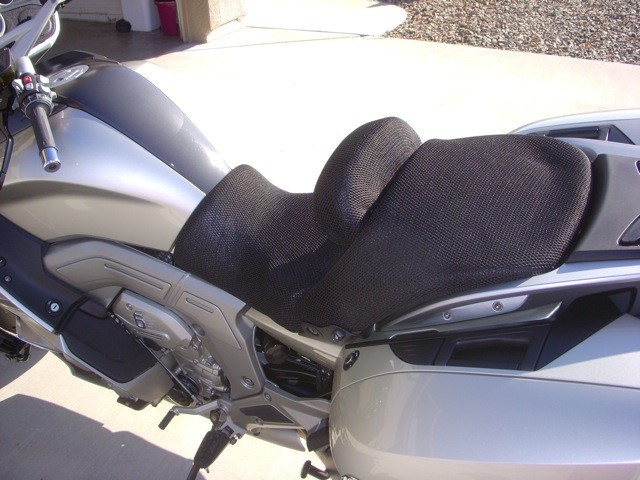 KonTour seat for the BMW K1600GT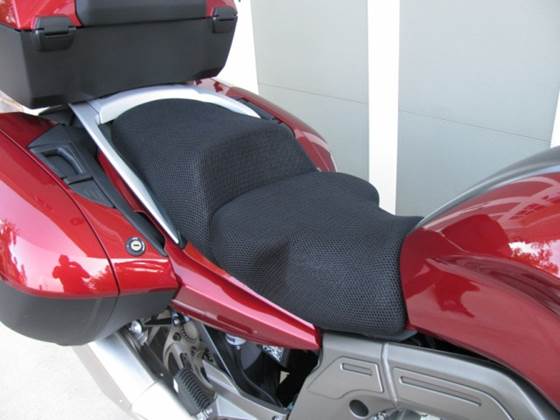 The best seat in the house:
KonTour MAGNUM.
We also design a seat specifically for big guys from 225 up to 350 lbs. and long inseams. Serious distance riders should consider a MAGNUM as well no matter what your weight.
Our competitors use steel springs to re-inforce the seat. While steel springs are up to the job, they tend to be extremely hard on the outside edges and more or less force you into two specific positions on the seat: All the way back locked in touring mode, or all the way forward with your butt off the seat and feet flat on the ground at stops. They simply had no middle position - and your legs were also forced into one specific angle for long periods of time.
After experimenting with multiple composite structures and after producing half a dozen prototypes we've finally come up with what we think is absolutely the best seat in the house designed for larger guys: The KonTour MAGNUM.
All components of a KonTour Seat - even the thread, Austrian sourced staples and glue we assemble it with - are ISO Certified for Quality - your assurance of the best materials in the world.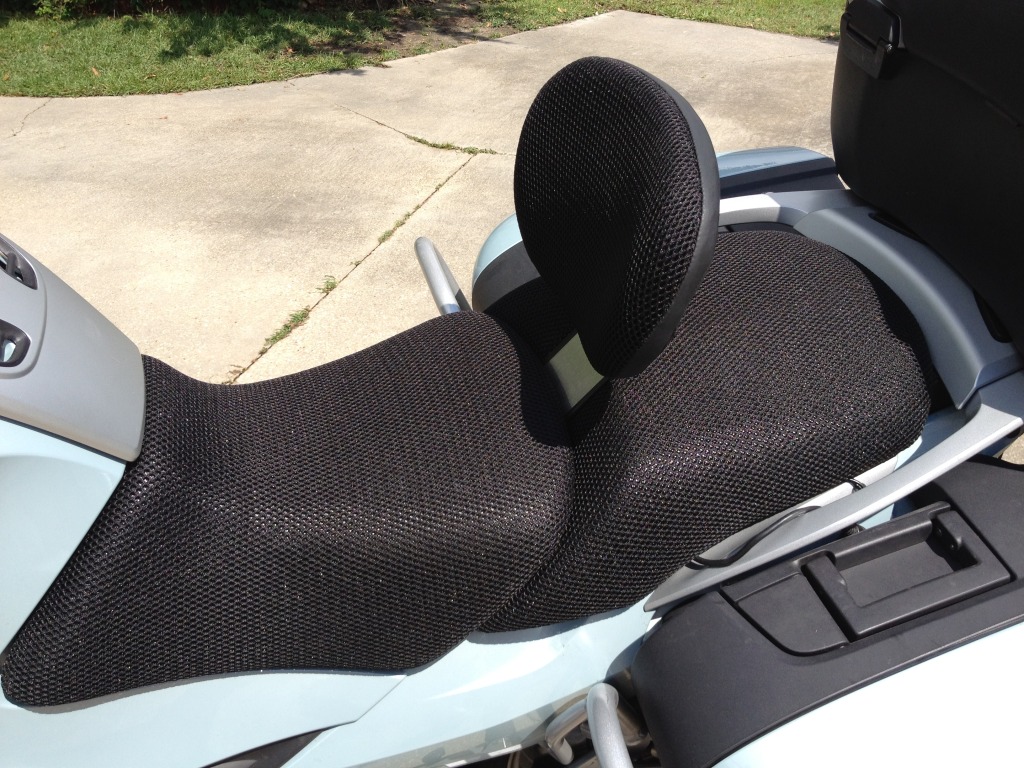 Jim and his custom K1200 GT KonTour Seatwith a BakUp brand backrest.
As an MSF (Motorcycle Safety Foundation) Instructor, here's what he has to say about his seat after a few months use:  "Everything's just fine with the seat. No complaints. And I extoll its virtues to any who will listen, and some who'd probably rather not!"
Got a cruiser you want to ride across the country?  With a Polar Mesh seat for the Honda Fury you can!  Cool air flow eliminates monkey butt.  There are no seams to cause pressure points.  Dual density military grade visco elastic foam provides all day comfort and support.  This seat was built specifically for the driver's weight of 225 lbs. Here's what he had to say about his new seat after taking it on its first ride:  "I rode to Huntsville, Alabama and back to Mobile yesterday for a total of around 760 miles. Didn't get the monkey butt at all. Everyone has complimented the seat, thanks for the good job!   Can you ride 760 miles on your bike without being in pure agony?
To the right is a picture of a "pudendal nerve" cutout for a customer with an especially sensitive area.   We can do the same for your coccyx. (tail bone)
Custom modifications are EASY with Kontour Seat:
Need your seat taller? No problem.
Need it lower? No problem
Need to sit back an inch? No problem.
Need a wider seat that will support your 350 lb. weight? No problem.  (That's our MAGNUM spec seat - built for BIG guys.)
How about raising only the front  of your seat to change the pitch and keep you from constantly sliding forward?     ...Yep, we can do that too.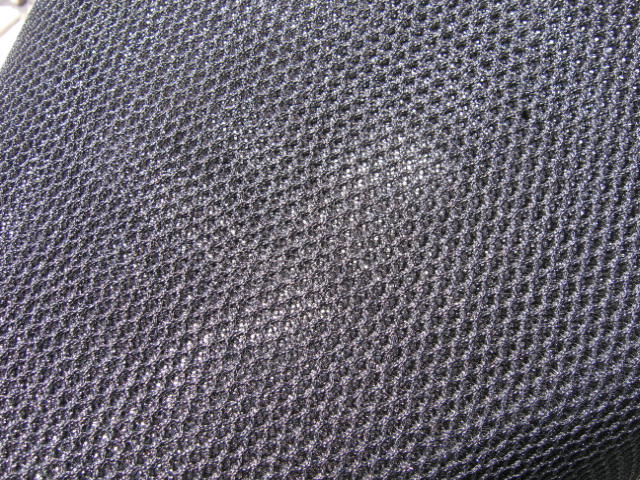 Another view of Polar Mesh. It's like riding on a curtain of air.
A GL 1800 seat sitting in full sun at noon on a 100F day.  The vinyl section is a scorching 173F.   You can't put your bare hand on it (let alone your butt!) since it's hot enough to cause 3rd degree burns.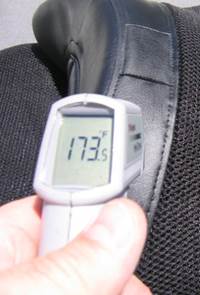 The Polar Mesh section next to the vinyl is a relatively balmy 115F.  The vapor deposited aluminized reflective/water proofing barrier located directly underneath acts like a mirror.  This also helps to keep the interior foam cores cool.