Ron K. Miller is standing outside his Tucson based studio next to his spotless vintage 1979 BMW R80/7.  On a table beside him are swatches of high tech fabrics and engineered 3M cushioning foams. He is extolling the virtues of an ergonomically correct motorcycle seat and breathable cover fabric: "Several hours into a ride, on a great day with a great motorcycle, you should be forgetting about your seat," he says, running his hand over the seat and an unusual polyester knit fabric he has named Polar Mesh.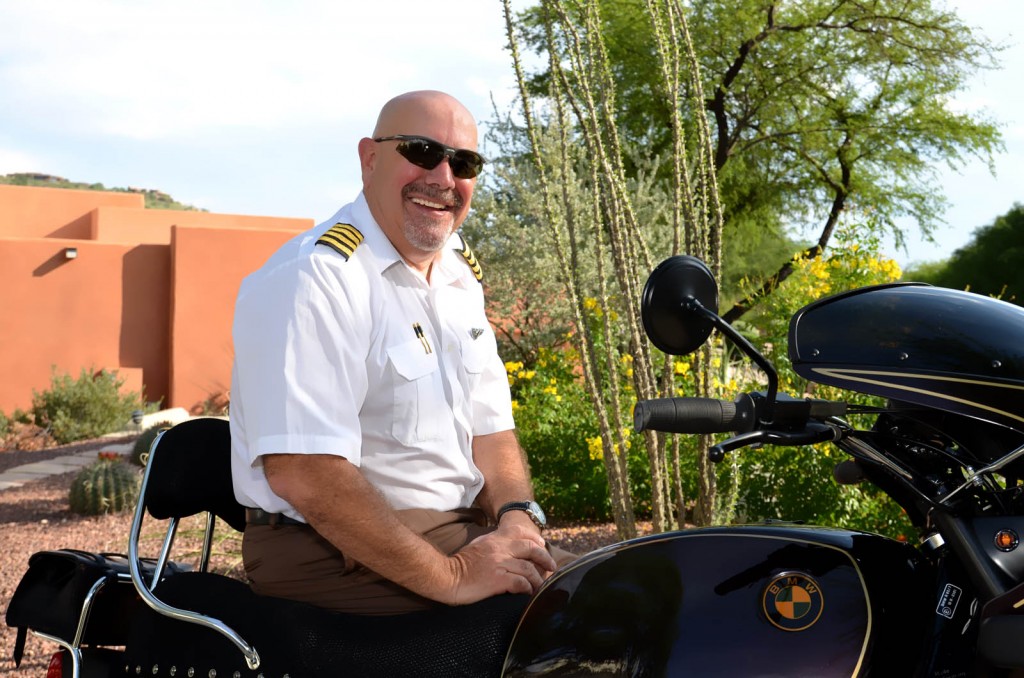 When you talk to Ron, he often speaks in the collective "we" – a word that speaks volumes about him and his collaborative approach to design. "We abrade Polar Mesh with emory cloth, we submerge it in water, we stretch it until it rips, we freeze it, we irradiate it with powerful Xenon arc lamps. We want it to be virtually bulletproof yet incredibly comfortable on one of the most sensitive parts of your anatomy. We found that by combining this unique top cover  and multiple layers of other high tech fabric and foam we could build a composite motorcycle seat that stands the test of time and provides infinite comfort."
"We" are the artisans that make up Ron's team – a small, close knit cadre of life long motorcyclists who work side by side creating the world's finest motorcycle seats. Every seat is made and sold individually – bespoke if you will. The result? A seat that's as unique as the person riding it.
Ron's hands-on approach is shown in every seat produced in his studio. "To me it goes back to the craft of engineering a seat that I would want on my own motorcycle."  And indeed – that is exactly what led him to found KonTour Seat in 2005. "I looked around for years trying to find a solution in the marketplace to my seriously aching butt. I soon realized that the only offerings out there were basically clones of each other – there was no original thinking!  Everyone was producing the exact same seat: a vinyl or inexpensive leather covered block of commodity foam, shaped into a dished tractor style mimicking a tired design that had been around since the beginning of the industrial revolution".
That quest for a better motorcycle seat led Ron on a two year journey expanding his knowledge base of materials. As an FAA Certified Commercial pilot and instructor for over 25 years, Ron understood the sublime quality of approved aircraft components, components that were unavailable or unknown to common "upholstery" shops. Even though his initial search turned up several promising ideas for a new cover fabric – none would meet his standards of breathability and extreme durability. So – he designed his own, making a major capital commitment working along side a USA based textile mill engineering team. After countless re-designs, multiple mill runs and over 150,000 miles of real world use by test riders, patented Polar Mesh was born: the first fabric ever designed exclusively for use on a motorcycle seat.
Ron built his company from that adventurous beginning, and pilot that he is, his primary satisfaction is knowing that his seats are not only incredibly comfortable but exceptionally durable as well – standards far beyond any traditional after market seat. Ron's company uses only USA or EU sourced components in their seats – from Polar Mesh to 3M visco elastic foams and DuPont waterproofing barriers – down to small details like FAA approved thread and Austrian sourced Beck inconel staples. "We refuse to use inferior Chinese sourced components like most of our competitors that fail within a year or two. We literally ride on our seats every day.  We know what it takes to make a superior product." says Ron.
(there's that hands-on approach again…)